The Founder of #MeToo Doesn't Want Us to Forget Victims of Color
Views : 215
Samantha Bee: We Can All Do Better Than Roy Moore
Views : 244
Cuba: What You Didn't Know You Didn't Know
Views : 164
Walking While Black
Views : 204
Jimmy Kimmel Asks: Should Hillary Be Impeached?
Views : 982
Bombshell Leaks Expose Trump Jr. Contact with Wikileaks
Views : 210
Colbert: Roy Moore Was Banned From A Mall And YMCA
Views : 338
Fox News' Shep Smith Debunks Uranium One Conspiracy Theories
Views : 218
Elizabeth Warren Decimates Fat Cat Wilbur Ross
Views : 220
Al Franken Flays Jeff Sessions For Lying
Views : 364
Samantha Bee: Thoughts and Prayers and Literally Anything
Views : 488
A Closer Look at Roy Moore
Views : 362
Explained in 150 Seconds: Why the GOP Tax Plan Is Awful
Views : 341
"They'd rather keep a child molester in the Capitol"
Views : 224
Ludovico Einaudi - "Elegy for the Arctic"
Views : 149
John Oliver Dissects One Year of President Trump
Views : 243
Kenya Recycling Activists Turn Ocean Plastics Into Dhow
Views : 186
Could Indoor Farming Help Address Food Shortages?
Views : 159
"My Worst Fear": A Doctor Faces Antibiotic Resistance
Views : 593
Samantha Bee: Eric Schneiderman on Trump's First Year
Views : 484
Republicans Push Their Tax Plan After Election Losses
Views : 476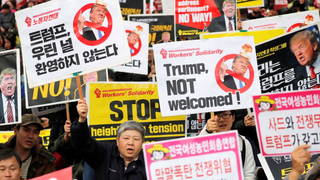 Trump Met by Protests Calling on US for Diplomacy With North Korea
Views : 174
I'm Thinking About Buying an Electric Car. Should You?
Views : 441
How to Break the Two-Party Hold on American Politics
Views : 283