Bill Murray Hates Dick Cheney (Groundhog Day Remix)
Views : 147
Cliven Bundy Ignited a Hellstorm of Right Wing Hate
Views : 162
Jon Stewart Rips Israel's Criticism of Kerry: "What the F**k?"
Views : 221
Bomb Trains: The Crude Gamble of Oil by Rail
Views : 111
7 Ridiculous Things Said on Meet the Press' Panel on Pot Legalization
Views : 569
Melissa Harris-Perry: A look at "Broken Windows" and policing tactics
Views : 181
UN Official Calls Out David Gregory for Using Israeli Propaganda Video
Views : 479
John Oliver: US uses 'weapons-grade bullsh*t' to rationalize nuclear arsenal
Views : 380
Is There a Boomlet for Elizabeth Warren for President?
Views : 418
Lock the Doors! Michele Bachmann May Run for Pres. Again
Views : 382
Bernie Sanders targets 'corporate deserters'
Views : 530
Tea Party Rep. Clawson (R-FL) mistook US Officials for Indian Government Reps (Unbelievable)
Views : 292
Morgan Freeman Chats with Jimmy While Sucking Helium
Views : 182
Colbert: Darth Vader for President
Views : 222
Jon Stewart on the Reagan Nuts
Views : 607
Obama Puts Heckler Who Calls Him "The AntiChrist" in His Place
Views : 680
Jon Stewart Interview: George Takei and His LGBTQ Advocacy
Views : 235
Lewis Black on Religion
Views : 877
John Oliver on making comic fodder of serious news
Views : 520
David Letterman: Top Ten Reasons Trump Plaza Casino Is Closing
Views : 545
Wingnut Sheriff Joe Arpaio: Send Border Patrol Into Mexico!
Views : 398
Rachel Maddow: Witnesses describe the latest botched execution
Views : 472
Jon Stewart mocks cable news' Obamacare ruling freakout
Views : 473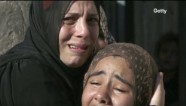 Zbigniew Brzezinski Denounces Netanyahu's Invasion of Gaza
Views : 402