Monty Python: "Always Look on the Bright Side of Life"
Views : 84
Love Obamacare but Hate the ACA? Jimmy Kimmel Will Shame You
Views : 86
Stephen Colbert and The Werd: Repeal and Erase
Views : 67
Michael Moore's Speech at Anti-Trump NYC Protest
Views : 112
In Trump Era, What Should We Do When Someone Is Being Harassed?
Views : 90
How You Can Save the Bees, Our Food and Our Land
Views : 87
Is Betsy DeVos Funding Gay Conversion Therapy?
Views : 91
Samantha Bee Blasts Kellyanne Conway
Views : 216
Katy Perry Produces PSA Against Creation of Muslim Registry
Views : 122
Seth Meyers: Republicans Move to Repeal Obamacare
Views : 200
Leaked Memos Expose Trump Russia Quid Pro Quo
Views : 375
Stephen Colbert: How Donald Trump Spent His MLK Weekend
Views : 468
Cecile Richards: The High Cost of Defunding Planned Parenthood
Views : 120
Republican Charged With Trump-esque "P*ssy Grabbing"
Views : 200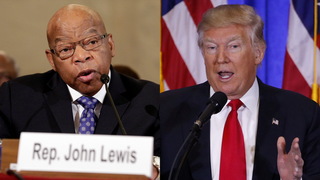 Trump Attacks Civil Rights Icon John Lewis on MLK Weekend
Views : 97
Linda Sarsour Fought for Muslim Holidays in New York City Schools
Views : 49
Processing Trump's Press Conference
Views : 197
The REAL Winner Of The 2016 Election...Goldman Sachs
Views : 113
Livestream: Edward Snowden, Richard Wolff, Jeremy Scahill and More
Views : 267
SNL: Donald Trump's First Press Conference
Views : 307
Let Her Learn: A Toolkit for Fighting Racial Bias in School
Views : 217
What Trump's Interior Pick Means for Federal Lands and National Parks
Views : 181
Bernie Sanders Gets Apology From Clinton Backer
Views : 410
Joe Biden Receives Presidential Medal of Freedom
Views : 90